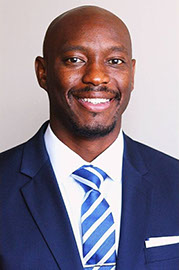 Erroll Hickenbottom
Hickenbottom, a native of Mobile, AL., began his track and field career as a stellar high school athlete for Mattie T. Blount High School, specializing in the hurdles, long jump, triple jump, 4 x 400 and 4 x 100 relays. Hickenbottom lead Blount to win several state championships in each of his events. In 1999, Hickenbottom was awarded a track and field scholarship to the University of Alabama where he was an All Southeastern Conference winner and an Alabama "A Club" Letterman. Hickenbottom also placed in the top 5 in the SEC Outdoor Championship and top 10 in the SEC Indoor Championship as a triple jumper during his career at Alabama.
In 2008, Hickenbottom began his coaching career as an assistant coach for the men and women's track program at Samford University in Birmingham, AL., coaching 13 All-Conference athletes. Eager to give back to his community, Hickenbottom served as a volunteer coach for the Mobile Parks and Recreation Department before founding Gulf Coast Elite Track Club where he coached the 2009 Junior Olympic Runner-Up in the high jump. In the Birmingham area, Hickenbottom worked with the Homewood High School Track and Field team as a volunteer trainer and coach. Recently, Hickenbottom's executive career as a financial crimes auditor brought him to Nashville, where he also brought with him his love of coaching young athletes.
"It is an honor to be selected as the head coach of the Continental T-Belles Track Club, Inc. The legacy of its success left by Coach Smith is remarkable and I look forward to continuing his goal of training young ladies to be successful, self-reliant, and productive members of society. Continuing Coach Smith's success which was passed to him by legendary Coach Ed Temple will remain the focus of the Continental T-Belles," stated Hickenbottom.